Conversations in real-time
An easy-to-use AI Chatbot software
Knowledge Base
RightBot analyzes your website and create the knowledge base that powers your chatbot. No website? no problem! pick from our wide range of templates and configure your bot in no time.
Visual Editor
With our user-friendly visual editor, you can drag & drop blocks and elements to customize your paths. Create complex logics with no code experience and delight your customers.
Natural Language
Leverage the power of generative AI & Large Language Models to build your bots faster and with high accuracy. Drive conversations with contextual data and avoid linear chatbot flow.
Automation + Humanity
Cut operational costs. Delight your customers.
One Bot. Multiple Channels
Design your bot logic once for all. It will work across all your channels including: Facebook, Instagram, WhatsApp, Slack, Mailchimp, Salesforce, Zendesk, Microsoft Teams.
One Bot. Multiple Languages
Design and build your chatbot in one language. Select the additional languages your customers speak. RightBot takes care of the rest. Automatic translation to 100+ languages.
One Bot. Multiple Integrations
Make your bot more flexible and scalable by using integrating with third-party applications. Receive and send information from your customers and sync in real time with your CRM, billing software and more.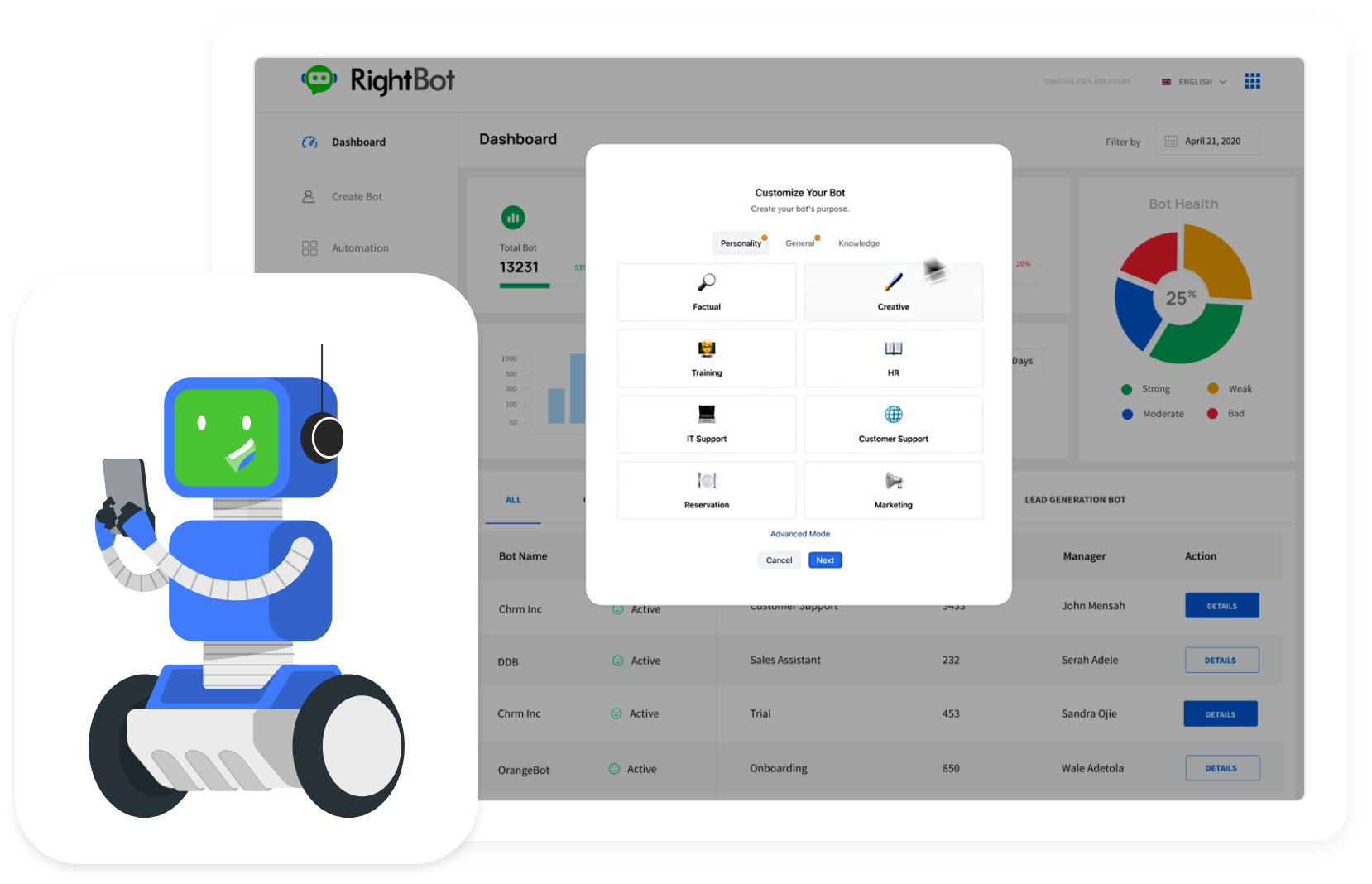 Virtual Agents And Real Conversations
The best way to create chatbots without code
Ready to use Templates
Explore our library (Shopping Assistant, IT Support, Banking Help, Healthcare Bot,...) and find the right template for your project or business.
Conversation Preview
Easily switch between building your chatbot and previewing the entire flow. Customize the user journey to meet your business goals.
Powerful Analytics
Enjoy in-built monitoring and reporting tools and take advantage of the bot insights to continuously improve the quality of your customer conversations.
Powered by