Start with Digital Signage
Upload content. Assign screens. Publish.
Content Management
Import your content (images, videos, web pages, social feeds, etc.). Create folders to organize and categorize your content for easy access.
Screen Management
Control how your screens interact with RightPlayer. Group your screens and add tags to easily find them. Track screen activity and reboot remotely.
Schedule Management
Instantly publish screen content or schedule for later display by day, time and more.
Playlists
Create multiple playlists to display preferred content in a specific rotating order.
Apps & Templates
Select and customize an app or design your own template to create beautiful campaigns. Extend the power of RightPlayer with your favourite apps.
Hardware-AgnosticRightPlayer works with your browser or any digital signage device that runs on Android, iOS, Chrome OS, Mac OS, Windows, Linux, or Fire OS.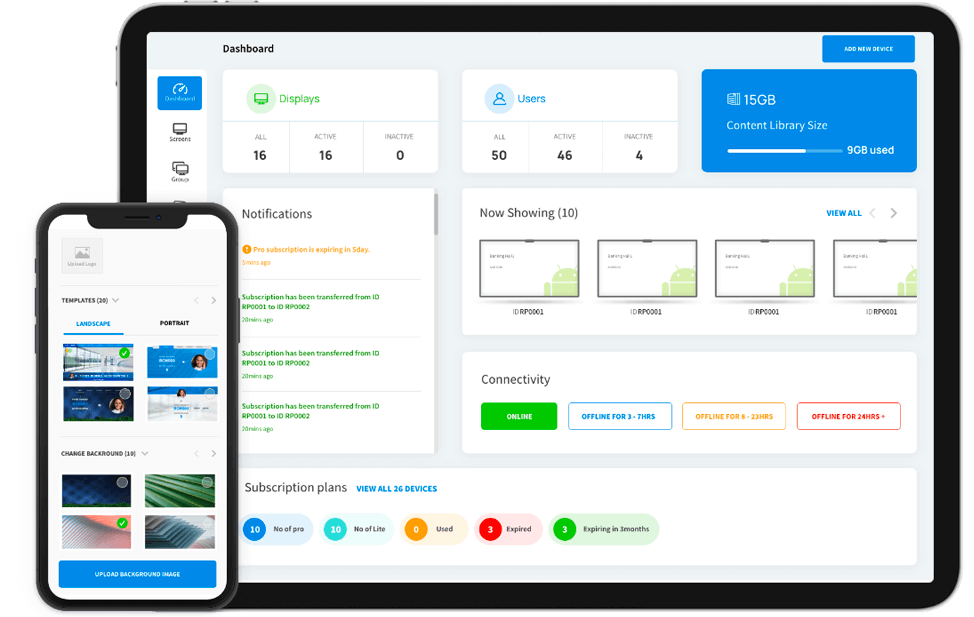 Online & Offline Mode
Run campaigns with or without the internet. Set screens up for offline mode to store content locally and update it whenever possible.
Reports
Our comprehensive dashboard presents an overview of all signage activity, whether you have one screen or multiple screens in multiple locations.
User Management
Do you have team members? Invite them to work on digital signage for better collaboration and assign different roles based on your strategy. RightPlayer is flexible.
Workflows & Automation
Our smart digital signage system triggers the display of specific content on a selected screen based on pre-set rules.
Screen Health
Monitor screen health and status features such as connection, mode, version, and campaign activity. Track every setting from a single view.
Integration
Integrate RightPlayer with your business apps to increase the impact of your digital campaigns. Connect RightPlayer with your CRM, HR software, and more.
Powered by