World-class customer experience
Streamline the customer journey with our innovative features
Multi-Queue Management
Start with a single line and scale to any service configuration including contactless, virtual queuing, multi-line, VIP reception, or personalized reception.
Customer Identification
Our proprietary technology allows you to identify customers without even asking for names while tailoring the customer journey for an outstanding experience.
Intelligent Counter System
Automatically direct customers to the best or next available team member for service based on multiple signals and real-time events.
Create personalized journeys based on customer profile, services offered and available resources
Multi-Services Management
Configure the system to offer a single service to visitors or multiple categorised services with priority rules that lower perceived waiting time.
Role-Based Dashboard
From Agent Console to Admin Dashboard, empower every staff member with the right information at the right time to delight your customers.
Reports & Analytics
Oversee and manage foot traffic, customer journey, services offered, and frontline staff performance in real-time at all your locations.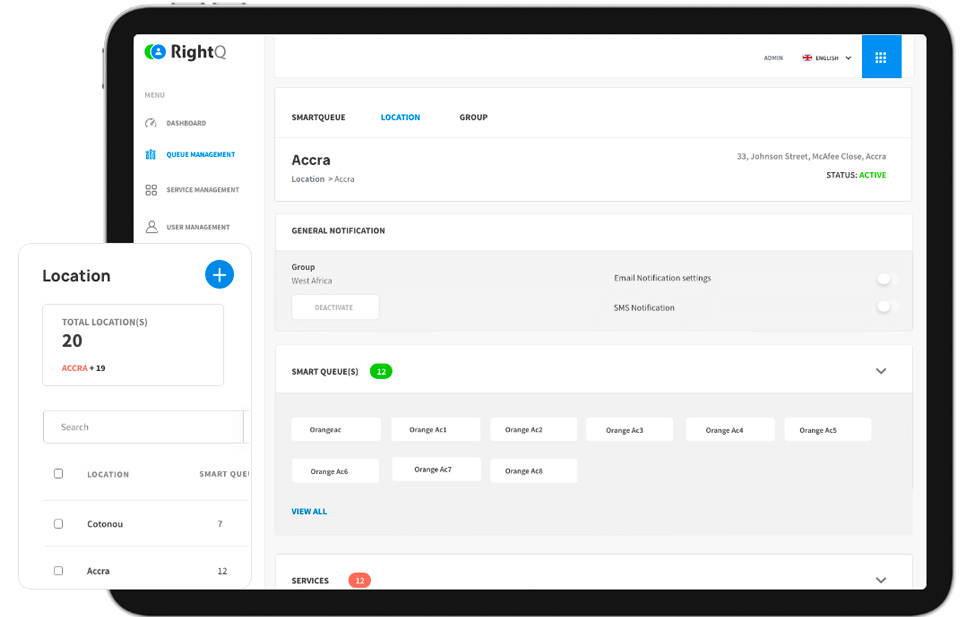 CUT WAITING TIME
The right customer flow management system
Automatic Email Reports
Set your preferred time to receive daily reports in your inbox and stay updated on the overall customer experience at various locations.
Ticket Dispenser
Whether you opt for virtual queueing, physical queuing or a hybrid of both, you can activate any ticket dispenser option (Android app kiosk, web widget, chatbot, free-standing kiosk).
SLA Management
Set a maximum waiting time per customer type, per service, or even per time slot. You can build your own SLA to meet your business goals.
Automation & Workflows
Notify your supervisors when waiting time exceeds SLA and send SMS to customers when it is almost their turn. Engage visitors with contextual information. Do more with RightQ.
Customer History
Empower your front line with a full customer visit history in any of your locations. See what made individual customers happy or unhappy so you can better attend to them each time.
Third Party Integration
Easily connect RightQ to your business apps and other RightCom apps such as RightSurvey and RightPlayer to create a seamless customer experience.
Powered by