Monitor customer lifetime value with key metrics like churn and customer health.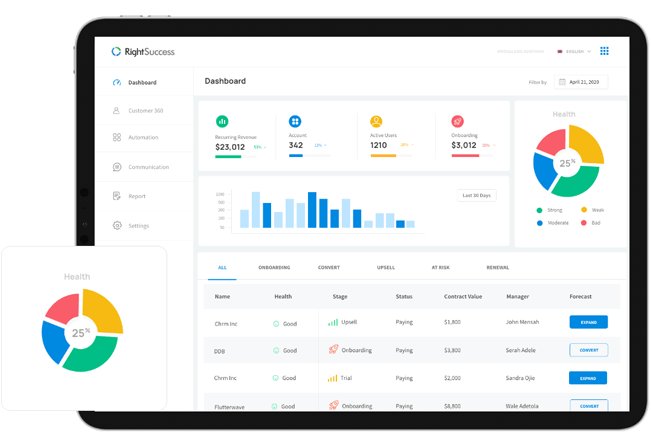 Gain a 360° visibility of your customers
Customer Lifecycle
Track the entire customer journey with a 360° view of what works and what does not. Set triggers to automatically drive more value.
Product Adoption
Acquire a better understanding of each customer's product usage. Discover valuable insight into customers' product adoption in real-time to unlock additional value.
Customer Health
Track and measure customer health scores based on metrics such as responses to CSAT, CES, or NPS surveys; customer engagement; and support ticket trends.
Account Growth
Automatically identify growth opportunities and reach out to willing clients with upselling or cross-selling offers.
Task Automation
Automate customer success workflows to save time from repetitive tasks. Design processes that improve team productivity.
Onboarding
Design a new customer onboarding journey to streamline the overall user experience. Visualize your customers moving from one stage to the next.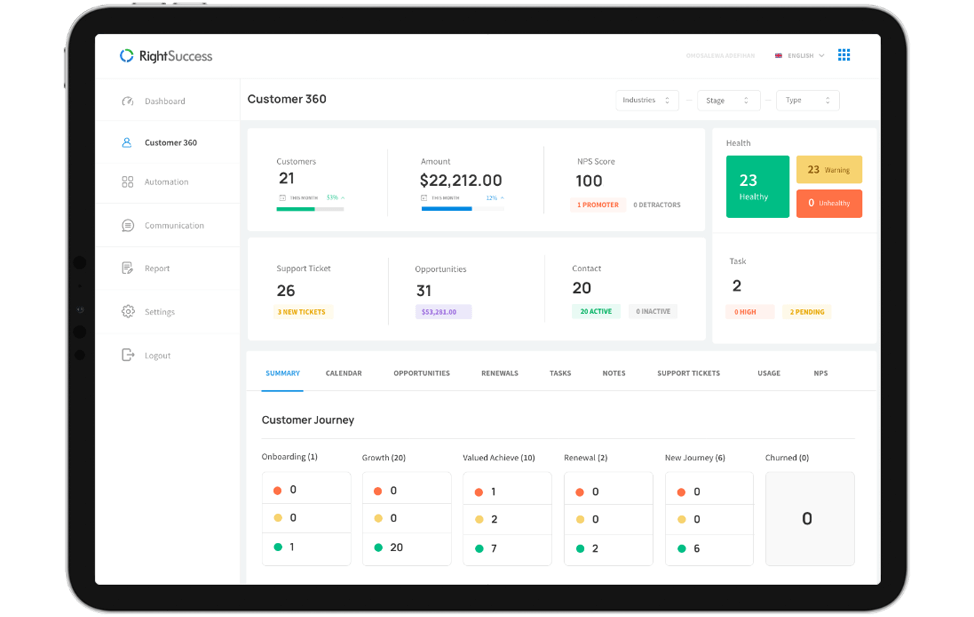 Alerts & Notifications
Get real-time notifications at every stage of the customer journey. Never miss an opportunity to delight your customers, avoid churn, or increase revenue.
Value Management
Proactively engage with customers. Create and categorize playbooks for repeatable tasks to easily monitor progress. Allow team members to collaborate on tasks.
Account Segmentation
Segment accounts based on tier, revenue, customer health, product adoption, CSAT score, and more. You can easily include additional metrics from other business apps.
Advanced Reports & Analytics
Create advanced role-based dashboards for CSMs, team leads, and executives to provide a clear view of key metrics such as lifetime value, customer engagement, and product adoption.
Customer Engagement
See all customer interactions with RightSuccess. Automate customer engagement with pre-defined templates that can be triggered when it matters most.
Revenue Management
Apply machine learning with the power of Ahava AI to predict customer behavior and optimize your sales strategy to maximize revenue growth.
Powered by