Real-time data
Capture the right data at the right time
Emotion Analysis
Leverage customers' behavior data to enhance their overall experience. RightFlow helps you understand how customers feel at different stages of the journey.
Demographic Analysis
Understand the impact of age range and gender on customer engagement strategy. Capture and analyze demographic data at the moments that matter.
Attention Analysis
Discover what your customers are interested in and what captures their attention by analyzing attention time, head movements, and eye location.
In-depth Analysis
Turn the data into actionable insights
Real-time Dashboard
Visualize ongoing activities in real time and get the most relevant operational reporting data for day-to-day business decisions.
Customer Segmentation
Fine-tune your customer segmentation with demographic data and customer behavior per time slot. Adapt your marketing and sales strategy to increase profitability.
Audience Analytics
Gain a deeper understanding of customers to improve marketing strategy, customer experience, and brand perception. Tailor your campaigns to attract the right audience.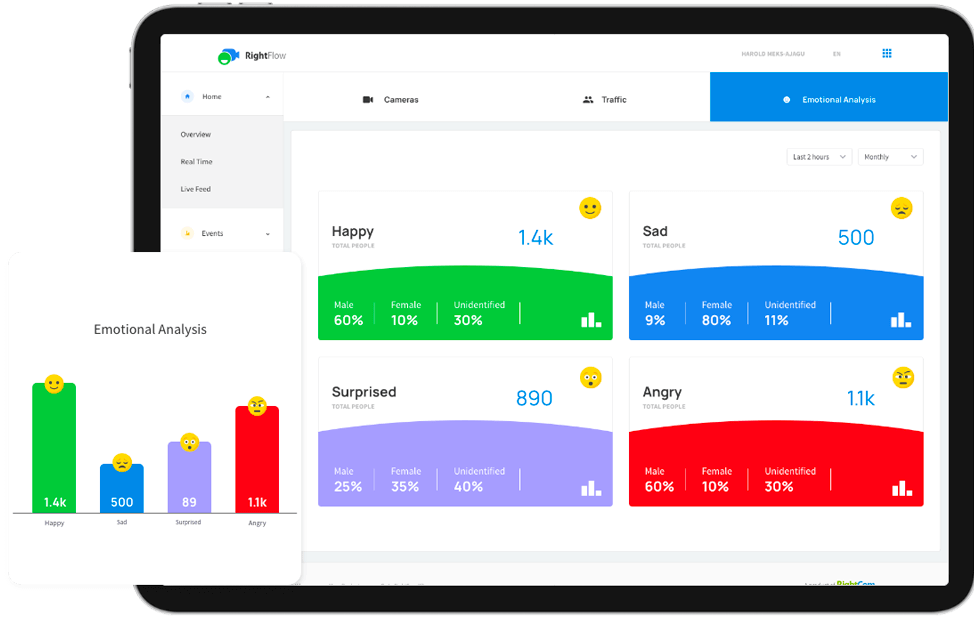 Protect and Engage with your customers
Create personalized experiences
Workflows
Trigger any marketing or communication campaign based on specific events, such as age range, gender detection, and emotion analysis.
Advertising Performance
Track advertising performance across different screen locations per time slot, per day, per week, and per demographics.
Contactless Engagement
Engage with your customers at any of your locations on interactive screens with the use of QR code and in-app experience features.
Occupancy Monitoring
Track real-time occupancy and alert customers when you reach full capacity and avoid the spread of COVID-19.
Face Mask Detection
Combine RightFlow with RightKiosk Flexi technology and detect face masks while dispensing hand sanitizer to your customers.
Body Temperature Control
Auto-read body temperatures at your various entrances. You can also manage multiple cameras at different locations.
Powered by