Understand your customer experience data
The perfect solution for a data-driven enterprise
Self-Service BI
Load and explore your data in minutes. Drag and drop to build a dashboard that lets you visually analyze your data from your web browser.
Intelligent Reports
Create beautiful reports that uncover hidden insights in the unstructured data collected from RightCom apps or any other data source.
Embedded Analytics
Integrate analytic capabilities and content into your business apps, products, websites, or portals. Quickly access strategic insights from your preferred business app.
TAKE THE RIGHT DECISIONS BASED ON THE RIGHT DATA
Improve customer experience with analytics that empower your team
Connect Multiple Data Sources
Import data from spreadsheets, text files, online storage services, relational or NoSQL databases. Schedule data to sync automatically or periodically.
Visually Analyse Your Data
Select from our extensive variety of charts, widgets, pivot tables, and tabular view components to create business reports and dashboards.
Run Deep-Dive Analysis
Apply our pre-built, user-friendly analytical features for in-depth data extraction to support critical business decisions.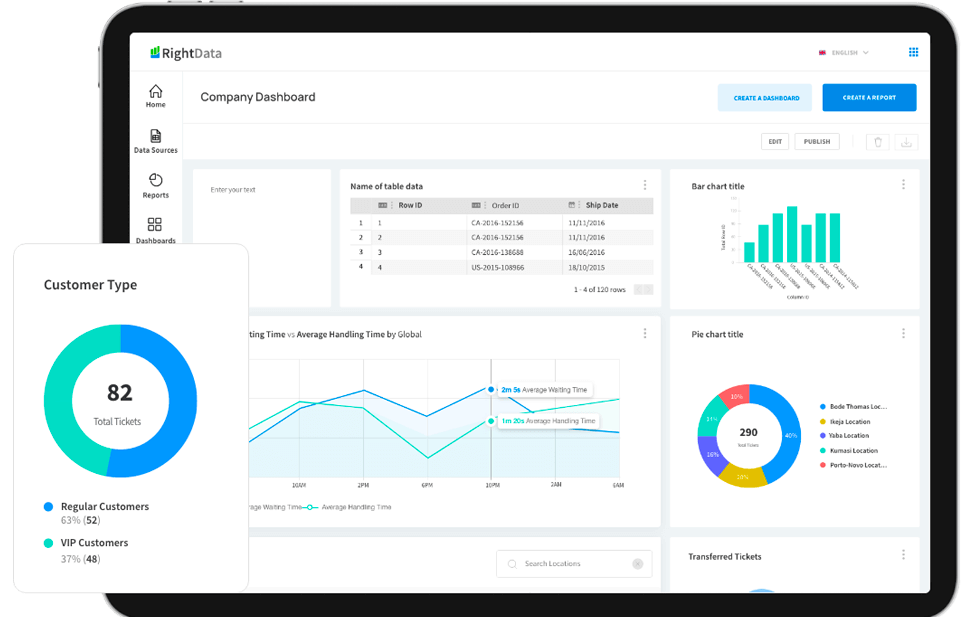 Collaboration
Invite your colleagues to view and interact with your dashboard. Grant different access levels from View Only to Editor.
Mobile BI
Easy on-the-go access to your dashboards from your mobile device. All dashboard layouts are optimized for mobile devices.
Automated Email Reports
Build reports that are easy to read in an email thread and automatically send them out at a frequency that suits your business.
Workflows & Automation
Set triggers to receive notifications whenever there is an important change in your data or a report.
Dashboard Templates
Explore our range of ready-to-use curated templates for CX professionals, product managers, customer service agents and more.
API & Integration
Extend the power of RightData with HTTP-based web APIs, from data import and handling to dashboard and report generation.
Powered by